Hello there, it's Angela here to share a little bit of Cafe Asta's summer adventures!
In August we traveled to Montreal, Quebec to participate in Canada's premier bilingual anime convention: Otakuthon.
The 3-and-a-half day adventure was far from boring! Between meeting new friends, constantly changing our displays and struggling to speak en Français, that weekend was unforgettable!
(Picture by the fantastique Veronica Thibault, which is the only picture of both of us at the table. Thanks love!)
I can sum up the first 6 hour drive to Montreal in one picture, and two words:
(This was a hay truck that drove in front of us for a while and made it look like it was snowing hay because of shards that flew out of its cargo.)
The ride: Think mixed CDs and a box of President's Choice ® chocolate chunk cookies, and you'd get the idea of most of our road trip.
However, we were hit by something on the road. Don't worry, we were safe, but it was quite frightening.
We forgot to take a picture of it, but during our ride, suddenly all we heard was a massive THUNK, which scared the kajeebus out of our five-person-party (we were all half dozing, and this woke us up nicely). On closer inspection, in the bottom left corner of the windshield was a small web of cracks. A pebble had hit our car at over 100 km/h, and had cracked our windshield.
Good thing the car rental was insured.
DAY 1: Thursday Night - Montreal's Most Famous Deli
After that eventful drive, we arrived at the Delta Hotell at around supper time and went for the classic Montreal delicacy: Smoked Meat. Ask any local where the most popular place in Montreal for smoked meat is and they'll tell you the name Schwart's. With rumors about lines extending from around the block, new shipments of bread and toppings daily, and reviews from big name magazines like National Geographic, you've got to know you're in for a treat. Although it didn't occur to us to bring a camera (since the location was actually a surprise to us by our native tour guide) It was a fairly good experience of smokey seasoned goodness. If we had gone earlier in the day when the ingredients were fresh from the bakery it might have been a little better, but I thought it was delicious and was glad we made the trek earlier on. As another instance of road trip excitement, I'll show you a picture of the spider we found in our hotel room.
J

ust kidding! its actually just the light fixture in the lamp! Looks pretty convincing though, eh?
DAY 2: Friday Night - Preparations and Opening Day
By arriving in Montreal on Thursday, we were expecting to have the morning to adventure through the city before the convention; fate had other plans....
With our insane work ethic and excitement over our first con together in Cafe Asta, Montreal was technically a vacation and according to my body it was time to catch up on rest. That meant sleeping in. Both Steph and I shared a hotel room with 3 of our friends who were also in relaxation mode, so when we did finally get out of bed, playing in our hotel's swimming pool seemed like a wonderful idea. Little did we know that there

would

be no time for exploring the city for the rest of the weekend.
Since it was technically our second time selling at a convention/festival, this time around we decided to test a few new things with our display.
If you saw us a Atomic Lolipop (See Steph's article) you'll notice at Otakuthon we had a whole table to ourselves. Using much of the same displays before, we quickly learnt that we would need alternatives to make the table look less bare and brainstorm ideas to make our table eye-catching. By improvising and changing our display throughout the weekend, we could test out which positions worked better and received reaction from our customers.
DAY 3: Saturday Food Scramble
How do you like our summer picnic theme? From the start, we had the idea of outfitting our table like a real cafe's display. With cakes on a tier and chalkboard signs with pricing we finally have the chance to completely customize our table. This meant a picnic inspired table cloth for our "food" to sit on, doilies as a way to incorporate the elegance of lace without making it too busy, and the items that most looked like larger full desserts on the tier.
That being said, I didn't realize how conflicting the display would be on our stomachs. It really worked out in terms of having real food on the table; it looked like we were perhaps roleplaying and didn't look too out of place with our coffees and delicious sandwhiches from Van Houtte Bistro in the Convention Centre (our savior!) The problem was that it was hard to find the chance to leave long enough to get food and even when we did were worried about leaving the other person alone at the booth. I know I was worried! The solution: Cellphones! With cellphones were able to call up our friends and ask if they could pick us up a few sandwiches; sometimes they would come by with food without us even asking. It was really nice of them.
When ever I had the chance to get up myself, I asked around with our neighbors in case they wanted anything while I was out: some tables only had one person running it and I realized how lucky we were that both Steph and I were able to attend. Its just so convenient and easy to manage when there were meany people at the table as well as someone to keep an eye out while you go on a food run. For those of you that plan on purchasing a table at any large scale conventions, I highly suggest you bring a friend to at least share the experience with..
DAY 4: Sunday Cosplay and Wrapping it up!
For those of you that didn't know, otakuthon runs for 3 days: fri to sun; with different hours for each. The point is that it provides three opportunities to dress up according to our theme and three chances to observe which outfits attract more attention to our table. We saw that cosplay made a really big difference: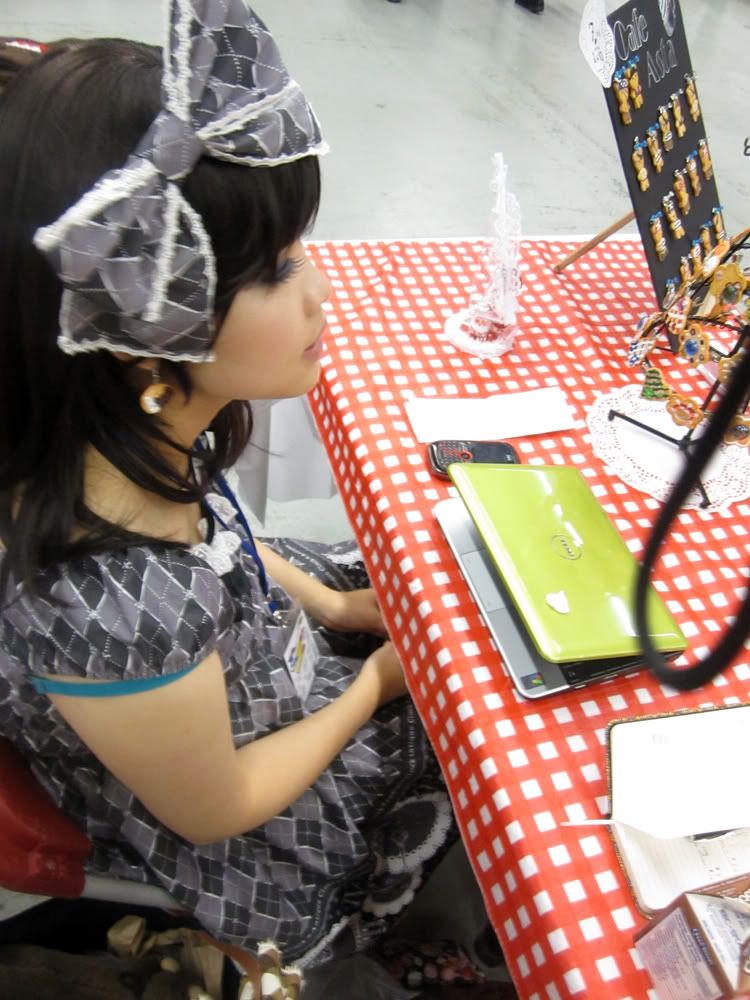 Since friday we were a little rushed we weren't able to cosplay, much to my dismay. On Saturday Steph and I awoke extremely early to prep our lolita outfits, both of us sporting our scores from bodyline (awoke @ 6, steph @ 7... Still at least 2hrs before our roomates). Naturally I am a morning person so it wasn't hard for me to wake up super early for the 3rd day in a row just to dress up.
There are many aspects one must consider in cosplaying that makes a successful and complete outfit look attractive. One of them is skin and make up. If you didn't get good enough sleep the night before, your skin is going to look tired and porus. Sure you can cake on the makeup to cover it, but that's time consuming and obvious and uncomfortable. My #1 suggestion would be to go to bed early.

Secondly you have to choose the right outfit for your product. On Saturday steph and I dressed as cute lolita ladies and it worked because we were having a lace picnic with cupcakes and pastries. On sunday only I dressed and since we wanted to promote our pirate bears more I decided to cosplay as a pirate maid~ I would say that it helped bring a lot of attention to the pirate bears, but unfortunately since steph wasn't dressed, the AU atmosphere didn't work so well :( I think of we had both been in cosplay, we would have given off a more playful feel and perhaps done as well as the day before. Lesson learnt!
And lastly you have hair.. Its definately one of the most important parts of cosplay that sometimes gets shafted. That weekend I got lazy and decided to use my real hair, straightened, as opposed to wearing a wig. The lack of a wig made a huge difference and you can tell when looking at a picture from AN wearing the same dress. Steph looked Gorgeous in her outfit, the wig bringning the entire effect together. Next time I won't be so cheap :(
All in all, Otakuthon was a great experience where we learnt the importance of cosplay, the trickiness of table presentation and the simple pleasures in life. We debuted our Limited Edition Pirate Bear Phone Charms (still available @ our estore!)
Will we go to otakuthon again? YES! Will we visit Montreal again! Yes Yes! And have we learned useful ways to get to know our customers? Most definitely~
We'd like to give special thanks to our neighbor/translator/new-found-friend Tarah for helping us enjoy our time at Otakuthon 2011n and we hope to see everyone again next year!